10 Guidelines for Your Entrepreneurial Journey Towards Success
Strategies of a Champion Entrepreneur by Paulo Tibig
Round-Up from the Big Boss Summit
Entrepreneurship
Financial Planning
Enrichment
10 Strategies of a Champion Entrepreneur
Strategy #1 C2C – Crisis turned to Cash
Strategy #2 Dare to be different
Strategy #3 Dip your hand
Strategy #4 Benchmark and hit your mark
Strategy #5 Innovate the plate
Strategy #6 Maximize technology
Strategy #7 Expand on surplus
Strategy #8 Co-Lab and Co-Op – Collaborate + Cooperate = Co-opportunity
Strategy #9 Lifestyle check
Strategy #10 Share the pie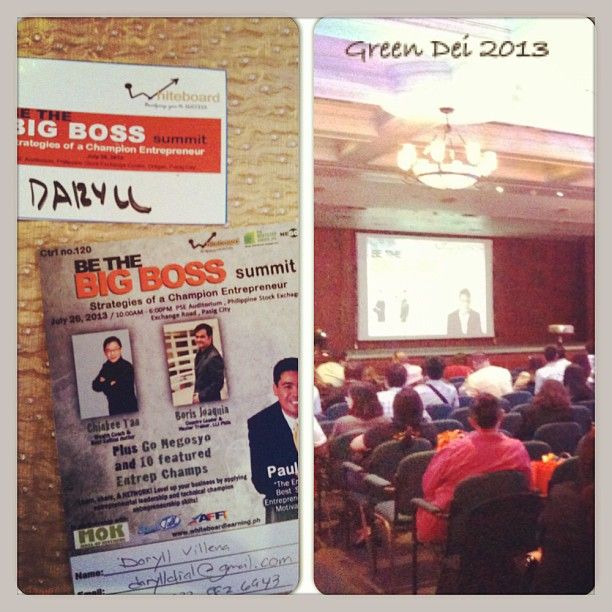 Big Boss Summit: 10 Strategies of a Champion Entrepreneur
Big Boss Summit Round-up

I recently assist Special Education Philippines and Whiteboard Learning in inviting bloggers interested to attend and tackle business seminars like this one. We've organized tickets giveaways sponsored by Whiteboard Learning. I would like to give big thanks to the bloggers who actually made it to the event aside from blogging about it and spreading the word about the business seminar. I also want to address bloggers who just came in only during press con, blog about it and not really making efforts to be there during the event (not even giving short notices to the organizers or contact person). Our group is making a stand to uplift Filipino blogger reputation and we would not tolerate misbehaving bloggers who made "ningas kugon" and under-promises. You know who you are and we've marked your "reputation". 
Going back to the Big Boss Summit, did I learned something from it? Would I apply these principles in real-life entrepreneurial plans?
From Tibig's 10 strategies, I particularly give a deeper understanding on Strategy #1 C2C – Crisis turned to Cash and Strategy #8 Co-Lab and Co-Op (Collaborate + Cooperate = Co-opportunity). That two strategies is what every beginner should prioritize. A start-up business has to be different (Strategy #2) with integration of C2C — on what your community lacks, what you deemed a necessity that will showcase unique concept, personal service and quality output. The forum also discussed why a business meets total failure, don't repeat one's success. Stay away from "Shawarma Principle" — same business concept that others turned it into knock-off or cheaper versions; making the business uninteresting and short life.

As for #8, I have been contemplating on the approach since blogging offers an avenue not yet tapped on particular niche. This is the right time to to value reputable (as we said it again) and trusted bloggers with high ethical standards and aims high to achieve a long-term goal. Happy to share, we are starting to roll the curtains! What's good with collaboration is we expound and merge skills as ONE. It eliminates crab mentality which is rampant in Philippines blogosphere. We hate to say it, but it's turning into a tragic and waste if no one turns the other way and make a leap. There are driven bloggers who wants to turn into an entrep champ someday.
The Need to SAVE!
Leaving you with one of the speaker's by line, from Chinkee Tan's deck:
"Buy things that can make you more money"
Differentiate bad debt from good debt, he valued wise investment by making purchases that will grow your savings through potential money-making approach. He said to live a simple life and buy only the things you needed most, even when you have a high earning business. From Peter Kawsek "You will never miss what you don't experience."

Read more at http://www.deiville.com/big-boss-summit-10-strategies-of-a-champion-entrepreneur/#14FSQ33UKzYcdXwA.99